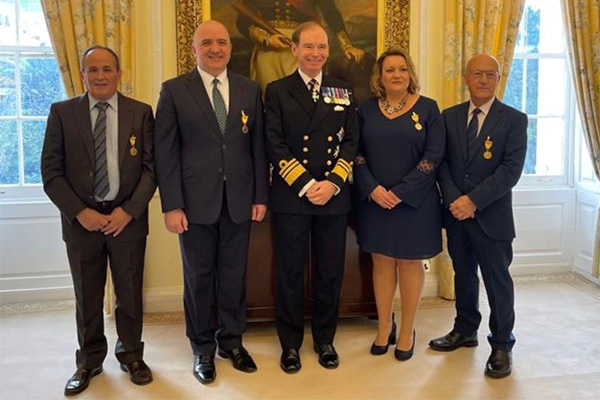 Edgar Triay 2nd left with The Governor of Gibraltar and other recipients.
SigncodeUK send congratulations to Edgar Triay of GHITA as he receives The Gibraltar Award.
The Gibraltar Award was established in 1957, for residents of Gibraltar and is awarded to recognise those who have rendered loyal and valuable public service worthy of special recognition, or those who have, by their loyalty and meritorious conduct, been of exceptional benefit to the people of Gibraltar.
The medal, known as the Badge of Honour, is of gold gilt and bears, on the obverse, the crowned effigy of Queen Elizabeth II , and on the reverse, the Coat of Arms and Motto of Gibraltar. Recipients have the right within Gibraltar to use the post-nominal letters "G.A".
Edgar Triay was presented with his award at The Convent from the Governor Vice Admiral Sir David Steel.
Edgar received his award for the tireless work he has done for d/Deaf people and those suffering with tinnitus. Edgar and GHITA ( Gibraltar Hearing Issues & Tinnitus Association ) were instrumental in campaigning for British Sign Language to be legally recognised as an official language in Gibraltar. Their hard work came to fruition when the Government of Gibraltar brought in the BSL Act 2022.
GHITA established in 2008 worked throughout the pandemic with the Civil Contingencies to provide support and information to d/Deaf people and continues to do so.
The Chief Minister, the Hon Fabian Picardo KC MP, said: "I congratulate all recipients of the Gibraltar award.  They have given excellent service to this community and I thank each of them for the work they do and the contribution they have made to Gibraltar."
SigncodeUK have worked closely with Edgar, GHITA and the local Deaf community for the past 6 years to provide BSL Signature courses both online and in person together with Deaf Awareness training and Kids BSL Summer Schools. We are also mentoring a local Deaf person to achieve their training qualification, continuing our support for our friends on The Rock.
To watch the presentation click the link below:
Feel free to share this article!